Battery Failsafe Devices
Low Battery Voltage Alarms
A division of MTR Design
PO BOX 1555
Santa Barbara, California 93116
"Order Hotline" call 805-683-9684
15 years of Service
"Keeping you informed"
The next generation of Battery Support Systems for all battery types.
Battery Failsafe Devices™ has introduced products to meet the needs
of running a battery voltage too low. With a wide range of settings, we've got you covered!
The device comes with an L.E.D. indicator for visual reading along with a buzzer to warn of low voltage.
Multi-color L.E.D. configurations indicates the battery status.
LCD Low Battery Alarm, +12, 24, 36 & 48 Volt Monitoring
Making it easy to monitor battery voltage!

Microprocessor controlled Low Battery Alarm for all battery systems.
This device will monitor your battery voltage and warn you of unsafe levels.
The Low Battery Alarm is completely user adjustable with 9 low voltage settings to support your battery voltage needs.
Priced at $59.95 plus shipping
Features:
Auto voltage sensing from 12 to 48 volts
Current draw of only +2.0 milliamps
Easy to read LCD voltage read out
Nine easily adjustable low voltage alarm settings
Senses voltage when connected to battery source
Loud audible alarm with LCD visual warning
Prevents battery failure and battery cell damage
6 foot DC power cord
Optional relay switching control available
Mounting tabs for best viewing location
1 Year Warranty
Call or email for more info and reserve yours now!
Click HERE to download the settings information (PDF)
Uses for the Low Battery Alarm are:
-Battery Backup Systems
- RV house batteries
-Trolling motor battery
- Marine batteries
- Auxiliary Power Units (APU)
- Travel trailers
- Power gate backup battery
- Generator battery
- Battery backup safety equipment
Low Battery Alarm XL
"Order Hotline" call 805-683-9684
To ask questions by email, click here!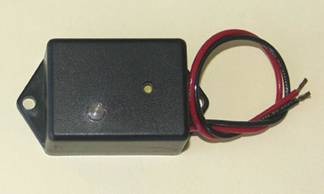 Alarm XL is an all-new Micro Processor Controlled Low Battery Alarm.

Now can be configured from +6 volts to +24 volt applications.
Our Alarm XL gives off a loud 4-sequence tone, along with the LED lamp turning from green to flashing red.
Measures 1 ˝ X 2 with mounting ears.

Priced at $29.95
Call or email for current shipping charges.
Please contact us about Custom Configurations to meet your needs